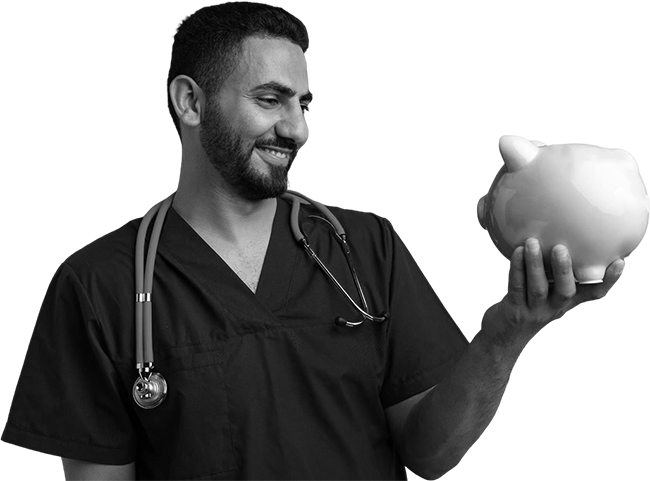 Protect your savings
from rising healthcare costs
Get best Health Insurance advice at your home !
What is a health insurance policy?
Health insurance, also called Mediclaim, is a way to pay for advanced medical treatments that typically require you to be in hospital overnight. It also covers certain other day care procedures like cataract surgery, etc. that don't require you to be hospitalized but are expensive nevertheless. A health insurance policy, therefore, covers your medical expenses and gives you financial relief.
Why is health insurance policy important &
why should you buy it?
Medical insurance is a form of insurance which covers the medical costs incurred in case of medical emergencies. These plans, thus, take care of the financial burden associated with medical contingencies. In today's age, when illnesses and diseases are on the rise, a health insurance plan becomes necessary. Though medical developments have provided a cure for most of the illnesses, such as cures and treatments come at very expensive costs. These costs become unbearable for the common middle-class man. A health plan, by covering these costs, takes off the financial strain caused by frequently occurring illnesses. It, therefore, proves to be an essential requirement for every individual looking to secure his finances against medical contingencies.
Types of health insurance we offer
There has been a constant rise in the percentage of health-related risks over a few decades. This has made it more and more necessary for us to get ourselves insured and avoid any financial crisis during medical emergencies. Buying insurance policies online has a number of benefits over traditional mode of investing in policies-
Time Saving
The availability of so many policies online has made it easy to get quotations for the policies of your choice and it also helps you in saving the time you would have spent talking to an insurance agent.
Easy Comparison
With all the information available within the reach of your hands, you can compare the policies, calculate the premiums and choose the best plan for your budget.
Lot of Choices
When you come to an insurance platform like Ginteja, you have a lot of options, making it easy to go through a range of plans and products.
24*7 Availability
You can get policy-related information and service all round the clock
Instant Coverage
Online health insurance providers provide you with an policy document and thereby making your insurance active immediately. Although the method is so fast, it is extremely reliable and safe. At Ginteja, we make sure that your transactions are kept safe and private.
Discounts
Most insurance companies offer premium discounts when you buy a policy online. You must always be on a lookout for the best deals that are easily available online.
Health insurance riders
Riders are the facilities that come with insurance policies that can be purchased for extra cover and added benefits. Here are top 5 insurance riders that you must know about-
Maternity Cover Rider
This add on covers the expense of childbirth. The primary coverage will be provided for the delivery and might be restricted for pre and post delivery. It may not cover the child care expenses and vaccinations. Howeverclass="linkaction" , it entirely varies among policies. It can be availed after the waiting period is over.
Accidental Disability Rider
Critical illness policy adds coverage if you are disabled due to an accident. If completely disabled, the total assured sum is provided. However, you're partially disabled only a percentage(depending on severity) of the assured sum is provided.
Hospital Cash Rider
Under this rider, you will receive a cash amount for every day that you spend in hospitalization. For most policies, you must spend at least 24 hours before availing the coverage.
Critical Illness Rider
Under this policy, if you are diagnosed with any of the critical diseases listed under the policy then you will receive the assured sum under the rider. This can be purchased along with insurance or a stand alone.
Critical Illness Rider
Under this policy, if you are diagnosed with any of the critical diseases listed under the policy then you will receive the assured sum under the rider. This can be purchased along with insurance or a stand alone.
Room Rent Waiver
Certain policies come with a cap on room rent. For example, if the room you rented charges you INR 4,000 everyday but your insurance covers only INR 2,000, you'll have to pay the rest of the amount from your pocket. To avoid this you can avail this waiver. One added benefit is, you can choose your own room (subject to certain conditions).
Mandatory facts to know about life insurance
As per Maslow's Hierarchy of needs, Life Insurance or Protection must be of primary importance to any individual. This is mainly because Life insurance is a protection against financial deficiency if the insured person dies. Practically, life insurance provides financial security to the insured person and their family at the time of unforeseen events. It thus prepares a person to deal with unforeseen events. Life insurance needs to be chosen based on the goals and needs of the insured.
1. Insurance and investment are not the same
It is important to understand and acknowledge that insurance can never be considered an investment as an investment is simply an important part of financial planning. Insurance is a necessity to ensure protection from unforeseen events and is not an investment.
The main reason for this confusion is mainly because there are certain life insurance plans in India that often double up as investments. For instance, Endowment Policies provide lump-sum benefits on maturity, Money Back Plans often provide regular payments at the time of the entire policy tenure on an as pre-defined schedule and Unit Linked Insurance Plans have a chance to pick your investments in equity as well! However, while choosing a Life Insurance Policy it is important to consider the coverage amount you wish to buy for your family.
2. Required Coverage amount
The required coverage amount for the chosen insurance policy is an important part of selecting a plan. It completely depends on your priorities and lifestyle. You must take into consideration inflation, your standard of living, liabilities, needs etc. Then, accordingly, decide the amount of coverage that could be enough for your family.
For example, if your family's monthly expenditures are around ₹40,000. You should choose a Life Insurance coverage of at least ₹ 1 Cr. or so. This is to ensure that the post-tax interest earned is sufficient to meet the family's monthly expenses on a regular basis. Thus, choose a policy that would be able to meet the monthly expense of your family in case of your death.
3. Policy Tenure
The tenure of any Life insurance policy is based on the type of plan you have opted for. You can select any tenure that you deem as necessary for yourself and your family. However, the best way to pick an appropriate tenure for your insurance policy is to see the timetable of how long you can work and pay for your family. This is generally till the age limit of 60 or 65 years after which your child or children would begin earning and so the number of financial dependents would gradually reduce!
4. Type of Life Insurance best suited for you
There are different types of plans that are available and offered and available in the market. It completely depends on the needs to be addressed by the plan you aim for. Some of the most common insurance plans are:
Term Insurance

Endowment Assurance Plans

Whole life insurance plans

Money-Back Plans

Pension Plans

Child Plans

Unit Linked Insurance Plan
Out of all the plans stated above, Term Plan happens to be the most basic and cleanest form of life Insurance. It is a budget-friendly plan. This plan however only looks after the death risk and offers no maturity benefit. The payment is supposed to be made in large amounts in case the person insured dies within the tenure of the plan.
5. Claim Procedure:
You and your nominee should be totally aware of the claiming procedure in order to expedite the claim as and when required.
6. Benefits Provided: Death and Maturity Benefit
There are mainly two kinds of benefits in life insurance plans.
a. One of the benefits is Death Benefit, wherein the beneficiaries receive a lump-sum amount in case the insured person dies during the policy tenure.
b. The second one is the Maturity Benefit, where the claim only arises when the said policy has matured. It is applicable only when each of the premiums is paid on time.
c. Maturity Benefit is payable for all life insurance policies barring term plans. Endowment Plans are a type of Life Insurance with maturity benefits. ULIPs also have maturity benefits. These policies are generally expensive in comparison to term insurance, but it does protect your family with a good coverage amount which helps in maintaining life expenses in case the insured person dies within the policy tenure. In conjunction, these policies also have a maturity benefit that is payable to the policyholder, in case you outlive the entire tenure. Hence, the money is not last if you survive the policy term; as seen in the case of term plans!
7. Tax Advantages
Life Insurance plans save taxes. Under Section 80C of the Income Tax Act, 1961, the premium amount paid with respect to life insurance plans is eligible for a tax rebate. The limit for premium contribution is up to ₹1,50,000. Also, under Section 10(10D) of the Income Tax Act, 1961, the amount of sum insured paid on death or maturity or surrender of policy is tax-free. So, life insurance is favored by many as it not only protects your family but it is also tax efficient. Thus keep these factors in mind before choosing the right plan.
Health Insurance claim settlement procedures
To make a successful claim in a health insurance policy, policyholders are required to follow the below-mentioned process – In case of cashless claim settlement
The policyholder should inform the insurance company of the claim. This information is to be given by filling up and submitting a pre-authorisation form. The insurance company analyses the form and approves cashless claim settlements. The form should be submitted at least 4-5 days before a planned hospitalisation. If, on the other hand, the hospitalisation was an emergency, the form should be submitted within 24 hours of hospitalisation

The health card or the policy bond should be produced to the hospital along with the identity proof of the insured

The company would then take care of the medical expenses

All medical documents, reports and bills should be submitted to the insurance company along with the claim form. In case of reimbursement claims

The insured should get admitted to a non-network hospital and avail the necessary medical treatments. Payment for the treatments would have to be done by the policyholder himself

Once the insured is discharged from the hospital, the discharge summary or discharge certificate should be collected

The claim form should be filled and submitted with the discharge certificate, medical reports and all original medical bills

The insurance company analyses the documents submitted and reimburses the claim amount to the policyholder's bank account.
List of documents required for health
insurance claim settlement
For successful claim settlement in your health insurance policies, you have to submit a set of documents. These documents include the following –
The claim form, filled and signed

Pre-authorization form for cashless claims

Doctor's recommendation for advice on hospitalisation

All original medical bills

All investigative and diagnostic reports in original

All hospital records in original

Consulting medical practitioner's certificate

All pharmacy and medicine bills
1. Is a medical test mandatory to buy a health insurance plan?
Pre-policy medical tests have become increasingly popular and are currently required by many health insurance companies. However, care health insurance has not made the medical test mandatory but it is important to reveal the truth about medical health conditions to the insurance provider while getting the mediclaim policy.
2. Is there any right age to buy a health insurance plan?
The ideal age to purchase a health insurance plan is between your twenties and your early thirties. At this age, you would most likely be in great health and free of any financial obligations to your family.
3. What is a Cashless hospital mean in Health Insurance Policy?
It is a service by Mediclaim policy or health insurance policy in which your insurance company pays your hospital bills directly. You will not have to pay anything because the health insurance company will cover the costs on your behalf. In health insurance, cashless claims are a type of claim settlement in which the policyholder is not required to pay cash for treatment and the bill settlement is handled directly between both the hospital and the insurance provider.
4. At what age I can include my children in a Health Insurance Plan?
For an individual child health insurance plan, a child as young as one day could be covered as long as both parents are coated by the health insurance policy. A child may be included in a family floater policy if they are between the ages of 20 and 25 (this is dependent on the insurer).
5. What will do if I will admit to a non-networking hospital?
When an individual is admitted to a non-network hospital, he is responsible for the entire treatment. After being discharged, he could submit all necessary documentation and reports to the insurer. The insurer will review all documents and approve anything it deems reasonable.
6. What are the benefits of Health Insurance?
Covers ambulatory patient services.
Offers to fund hospitalisation.
Ensures access to preventive care.
Funds dental treatment
Gives specialised coverage for critical illnesses.
Offers a cashless claim benefit.
Ensures funding for alternative treatment.
Provides for domiciliary treatment.
7. Can I increase my insured sum under my existing Health Insurance Policy?
Almost all insurers will allow you to increase the coverage amount on your existing health insurance plans when it is renewed. While it will slightly raise your premium, you will have proper insurance for your and your family's medical needs without having to pay too much out of pocket. Thus, enabling the best health insurance coverage for your dependents.
8. How much health insurance do I need to do?
To begin, your health insurance should cover at least 50% of your yearly income. Second, the insurance should cover the cost of a coronary artery bypass graft in a health centre of your choice. Most financial planning experts recommend purchasing a minimum of Rs 5 lakh for best health insurance.
9. Are there any tax benefits on health insurance policies?
The taxpayer (individual/HUF) may claim a deduction under section 80D for medical insurance premiums paid in any manner other than cash.
Just about everything nowadays allows for part payments or an EMI. Most consumers prefer EMI payments because they do not place a financial burden on them. The best health insurance policy is now available on EMI, allowing one to pay the high premiums in small monthly instalments.

Ginteja Insurance Brokers Private Limited
Insurance is the subject matter of the solicitation. For more details on policy terms, conditions, exclusions, limitations, please refer/read policy brochure carefully before concluding sale.
Ginteja Insurance Brokers Private Limited. All rights Reserved
Copyright © 2023